(until June 24 11.59 pm or until the event is full)
| | |
| --- | --- |
| | |
| | |
| | |
| | |
| Charity (T-shirt & buff incl) | |
*approximate distance
Support Plan International and help girls develop into strong women. More information)
All individually registered participants will receive a confirmation email containing their E-ticket. With this E-ticket (printed or on smartphone) you can collect your bib number at the pre-registration stand. Be sure to check your junk mail.
(until June 9 and as long as bib numbers are available)
You want to take up the challenge with your friends or colleagues? Sign up as a group.
Procedure online registrations:

Register a group
You will receive an e-mail with your group name and a code. To manage your group, you will need your group name, code and the password you chose.
Now you can add and delete group members. Only the group leader can manage this.
You can add as much group members as you wish.

Registrations can be picked up as one package (all together) or individually. Please indicate this clearly on the registration form. If you choose to collect everything together, this can only be done by you as a group leader. If you choose individual collection, all the participants receive a separate confirmation email with all the information to collect their number.
For a pick-up in 1 package you must be with at least 10 participants. If there are less than 10 participants, you can still register as a group, but each group member collects his or her participation package individually.
Payment should be done by the group leader when the group is complete. The group is confirmed only after payment.
From the moment your group is closed, CHANGES to your group are impossible. They can only be made on site at the registration stand. An administration fee of € 5 per change is charged for this.
Name changes are only possible at the registration stand on the day of the event and are necessary to be insured as a runner. An administration fee of € 5 is charged on the spot.
No discount is granted.
Besides the unique experience of running through the capital of Europe and discovering known and unknown sights, we offer all participants of the Liantis Urban Trail Brussels an expanded starter pack:
Technical running shirt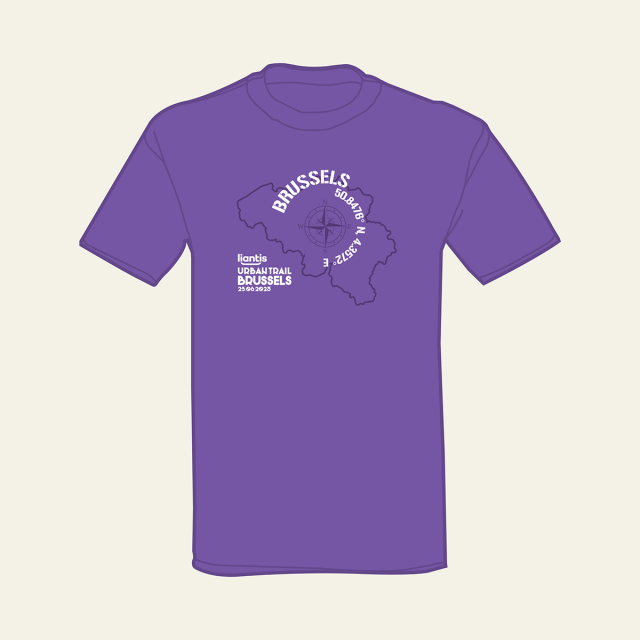 We will make sure you'll remember your trek through the capital for a long time. Every participant will receive a unique Liantis Urban Trail Brussels T-shirt, so you can show you were there! At registration, you can indicate your shirt-size. We can however not guarantee that your size will still be available when you collect it. The earlier you come to pick up, the higher the chances you will get the right size.
And also…
a Protein cottage cheese
free storage for bags
2 supply posts along the trail of the 12 km
1 supply post along the trail of the 6 km
Aquarius at the finish
Sportinez insurance during the race. Click here for more info.
To provide more comfort running through the alleys, on the stairs and through the building during the Liantis Urban Trail Brussels, participants will start in 5 waves with a gap of 20 minutes in between.
9h30: start wave 1
9h50: start wave 2
10h10: start wave 3
10h30: start wave 4
10h50: start wave 5